Finally got a trophy, and I got the coyote skull trophy! What hidden trophies do you all have?
I've got Spartan Spear, Coyote, and Wolf skulls
I'm missing Bobcat and every other secret trophy this game has
My dick and balls cast Trophy.
I also used to be cursed by RNGesus and literally another mythological figure of fate. Apparently I performed the right sacrifices and 5 rituals. To cure the curse the main thing would be to worship the Black Warrior, the Yautja god of death. Ask for him to kill the curse and those who put it on you. May the Yautja gods have mercy.
I have the flintlock pistol, the warhammer and the bobcat and coyote skulls
It's because I haven't hunted in forever
The next Pred dlc Scar should cure me
Quit bosting about your flintlock Dovah
JK hope your doing good
I am doing good, thanks lol (I'm sorry for boasting, I just had to)
None. Fuck those fucking boxes
I have 1.4 million vert and open up maybe a handful of boxes per day.
Until they do something with the drop rate, that number will just keep climbing.
It used to be higher but then they made the Spartan Helmet available for purchase so I got them all.
Warhammer, Wolf, and Coyote skulls. Wish I had nunchucks or pistol.
From the field lockers. They are rare to get though.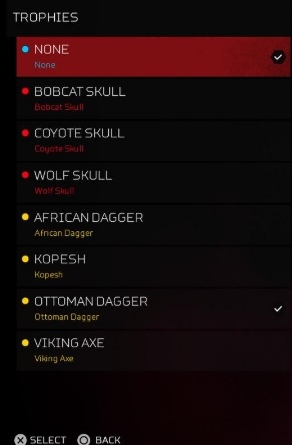 My collection of Predator trophies so far…
Ok how did you make a deal with RNGesus?
commented deleted by Illuminati
Lol! Hears Knocking at Door FBI OPEN UP!