They should never have added those three bio masks, eveerytime they add something we get new bugs. :(
And now it's weekend and they're probably not working.
dont warry they dont work during pre-holidays as well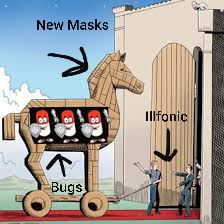 I'd like to buy on pc but is it really worth the price right now?
This game is absolutly not worth to buy in its current state. I couldn't suggest this game to my friends because too many bugs, no content and horrible balance. When they understand that what we need is not reskin of Berserker and trash melee weapons and this broken balance I might suggest this game to some friends. Right now not worth.