good work i know its not much but good work im really happy
Guau Illfonic Increíble!!
Sacáis el pack con acceso anticipado a las máscaras y os lo pasáis por donde la da la gana 👍👍
In the PSBlog for last update they stated the masks and shaders in the bundle would be available "by December"
I have not played for 3 months and I doubt that I will play soon, the update or let's talk and the dlc of April garbage, but this month and July there is no dlc …
Is he running under a different name, im sure I heard him hurl some abuse at me before rage quitting lol
TBF it's just the Mr.Black stuff that unlocked and everything else could be released by December, not that everything was releasing in December. The community people like Oldkinghamlet have also told us not to buy strictly for the early access items if you already had the DLC. If you wanted it early and bought it early great, but it was always going to release be it in field lockers or for currency.
early access for the Mr Black mask ends in December. We are already in december
Some of y'all could've used that $20 for gas, shit is expensive.
@Courier. Any comments from illfonic about early access until December of the predator masks included in the predators bundle ???
We've addressed this multiple times on the forum. Please stop spamming
It's by December not in December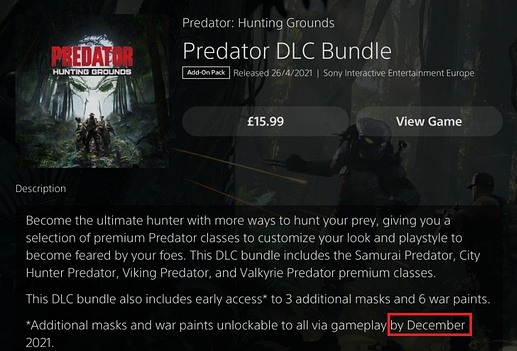 I bought predator hunting grounds 1 and now i have predator hunting grounds 2. Interesting version numbering.
In the excerpt of the product description of the playstation store it does not say that, it clearly states that it is from December, not before December, you can read it clearly in the image that I sent from the description of the playstation store. if it is wrong they should correct it and publish that it is an error
Thanks Illfonic, I had the 4 dlcs and bought the pack because I thought it was an early access to the skins, thanks for taking care of your fans 👍 until never.
Gracias Illfonic, tenía los 4 dlcs y compré el pack porque pensé que era un acceso anticipado a las máscaras, gracias por cuidar a tus fans 👍
hasta que nunca
thanks a lot its means a lot IIIfonic.