Where the 10 times that Gabi improved her likeability?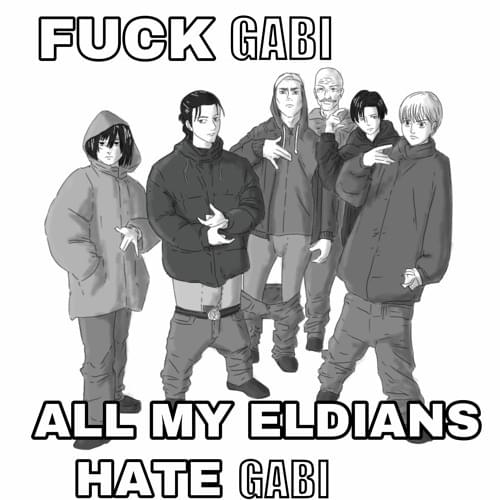 She killed one person. The Annie, Reiner, Zeke and Bertholdt killed dozens each directly and caused more death indirectly through breaking the wall. They were invading, while Gabi was defending her city from Eldian attack. Get off her back
Lol I know right! she even apologized for them during the time Jean brutally beating Reiner(totally knew he could take it…maybe)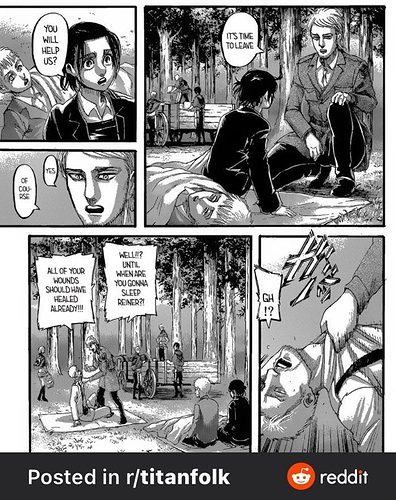 But still
Shea there so we hate Eren less
Was anything significant revealed at the November convention?
I've been wondering how things would have turned out had Erwin been the one to get Collosal. Armin has been very passive as a titan and in general. I wonder if Jegherites would have ever taken over if Erwin was there? And what kind of influence would Erwin be on Erin and his decisions? And if Colossal would crush second Marley invasion with ease? And the politics? And if Erwin would be a dirty old middle aged man fawning over Annie?
Lol whoa there, you been rewatching episodes haven't you lol 😂
I haven't. Just bored a bit, but new season will start soon so I've been thinking away. I'm actually hooked by ghost in the shell series. Pretty good futuristic detective/action show with some philosophy to boot.
Which one? The one that aired on adult swin or a new reboot/ remake
Watching SAC_2045 season 2 currently. Already saw SAC 1 and 2 and Solid State Society. Arise seems weaker so I'm not sure if I'll watch it yet.
I have no idea 🤷🏽 😅 but a answer to your quest I found this, this might help